Jicama Tacos with Chipotle Crema- Inspired by Richard on Top Chef
Welcome to the first food post on FitLifeSF… and, happy Cinco de Mayo!
I love Mexican food. Like, a lot. So what better day to start off with what I hope will be some inspriation for everyone to find ways to continue loving the things they love- either in moderation (as I am with the well-measured 1.5 oz of Tradicionalhere by my side) or in a healthier version, as I did with this tacos recipe.
What does "healthy" mean in the context of my postings here on FitLife SF? Well, it depends. Sometimes it will be calories, sometimes it will be fat, sometimes it will be adding veggies, sometimes all three. In all cases, though, the food I make contains "real food." No poly-styro-carbonate fat-free binders. I think the most extreme I get is using egg whites or natural fat replacements like fruit purees and lower-or-non-fat dairy products. Nothing too scary.
So, without further ado, I bring you…
Jicama Tacos with Chipotle Crema
Fans of Top Chef will no doubt recognize the inventive replacement of a traditional corn or flour tortilla with jicama. I have to admit, I was with Zoi when I said "there is NO way that tastes good." But, I am pleased to report that this recipe turned out really well! Here's what I did:
The raw materials: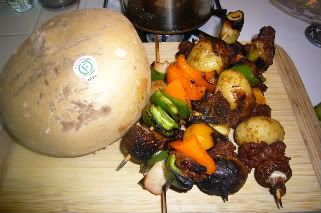 I started with a big ol' jicamaand some chili-rubbed Kobe beef flank steak kabobs leftover from yesterday. The meat is from our favorite neighborhood meatmart, Avedano's, and kabobs also have leeks, red and orange pepper, and mushrooms.
First, I sliced the jicama on the thinnest setting of my new mandoline.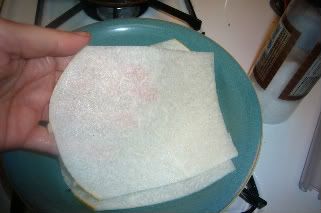 Then, I salted and limed it and set it aside.
Next, I made:
Chipotle Crema
½ 5.3 oz Tub Fage 0% Greek Yogurt

1 tsp ground chipotle (to taste)

A few scrapes of lime zest

Dash of Worchestire

Salt

Pepper

Orange Juice to Thin

 

Mix yogurt with first six ingredients. Thin with orange juice to slightly-runny consistency. Check for taste, then set aside while preparting the tacos. Taste and adjust seasonings again before serving.
Corn and Black Bean Salsa
Corn- fresh from cob preferred, or 1 can well-drained

Black Beans, rinsed and well-drained

½ Jalapeno pepper (with or without seeds, depending on desired heat)

¼ Red Onion, diced

(When making this stand-alone, I add one small bell pepper diced, but today the kabobs have grilled bells pepper in them)

Squeeze of lime

1 handful cilantro, chopped (1-2 tbs, or to taste)

Salt

Pepper

Pinch of sugar

 

Place corn, jalapenos (and bell pepper, if using) and onions in hot nonstick skillet sprayed with olive oil (I like Spectrum Naturals brand, or use my knock-off Mr. Misto.) Season with salt and pepper, add a pinch of sugar and toss to coat. Leave it be until the corn starts to pop around and you smell a nice corn aroma coming from the pan. Flip once and repeat. At this point, you should have nicely caramelized corn and onions and some bits stuck to the pan. Add the juice of a small half of lime and use a rubber spatula to help loosen some of the bits on the pan. Add the well-rinsed black beans and toss. Add a handful of cilantro and set aside.
Finally, I spruce up the meat and veggies on the kabobs by chopping an sauteing with a splash of lime and a dusting of cumin.
To construct the tacos, place a spoonful of the Corn and Black Bean Salsa on a jicama sheet, topped with some of the meat mixture, 1/4 oz of Ricotta Salata cheese, and a thin slice of avocado, roll and place seam-side down on storebought mango salsa. Drizzle with the chipotle cream, and there you have it!
According to my calculations, a whole plate of these puppies comes in at under 350 calories, very low fat (well, if I'd used a flank steak other than the Kobe I had left over), and more protein than carbs (with the option of swaying that even more if you leave out the black beans.) And, did I mention it was really good?