Author Archive
But I wanted to give you all a reason to come back and see us on our official URL, FitLifeSF.com on Monday.
We are working on a really nice Bike to Work feature for National Bike to Work Day on Thursday.  This will include some tips on how to get that dusty ol' bike in your garage ready for the ride, what you need to bring with you in case of a bike breakdown, a first-person account, including tips on how to make biking to work easy.  We'll also have some nutrition product reviews and San Francisco-specific infor for biking to work.  The coverage will start Sunday night and we'll be adding content through Thursday.
Come back and see us!
A new study from the Journal of the American Medical Association looks at women in the period right after quitting and for several years afterwards.
The good news?  By quitting smoking now, you can see immediate health gains in your cardiovascular health and more.
The bad? It can take up to 20 years to completely reverse the damage to your lungs and associated risks… so the sooner you quit, the better!
I used to be a smoker. In hindsight, quitting was one of the easiest things I've ever done.
I need some help with a name for this segment on FitLifeSF… your suggestions welcomed!
Tonight at the FitLifeSF compound, we dined on…
Roasted Vegetable Barley Salad with Ricotta Salata and Dijon Chicken Breast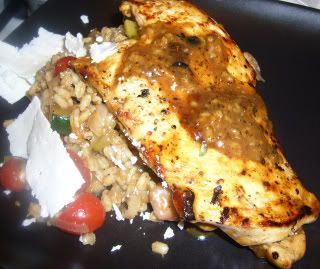 Welcome to the first food post on FitLifeSF… and, happy Cinco de Mayo!
I love Mexican food. Like, a lot. So what better day to start off with what I hope will be some inspriation for everyone to find ways to continue loving the things they love- either in moderation (as I am with the well-measured 1.5 oz of Tradicionalhere by my side) or in a healthier version, as I did with this tacos recipe.
What does "healthy" mean in the context of my postings here on FitLife SF? Well, it depends. Sometimes it will be calories, sometimes it will be fat, sometimes it will be adding veggies, sometimes all three. In all cases, though, the food I make contains "real food." No poly-styro-carbonate fat-free binders. I think the most extreme I get is using egg whites or natural fat replacements like fruit purees and lower-or-non-fat dairy products. Nothing too scary.
So, without further ado, I bring you…
Jicama Tacos with Chipotle Crema
Fans of Top Chef will no doubt recognize the inventive replacement of a traditional corn or flour tortilla with jicama. I have to admit, I was with Zoi when I said "there is NO way that tastes good." But, I am pleased to report that this recipe turned out really well! Here's what I did:
The raw materials: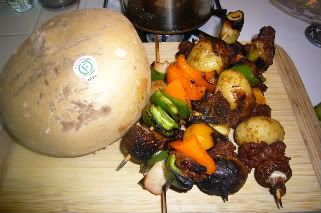 I started with a big ol' jicamaand some chili-rubbed Kobe beef flank steak kabobs leftover from yesterday. The meat is from our favorite neighborhood meatmart, Avedano's, and kabobs also have leeks, red and orange pepper, and mushrooms.
First, I sliced the jicama on the thinnest setting of my new mandoline.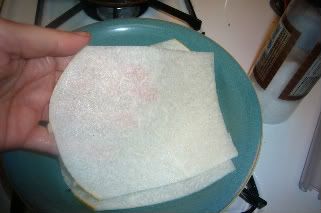 Then, I salted and limed it and set it aside.
Next, I made:
Chipotle Crema
½ 5.3 oz Tub Fage 0% Greek Yogurt

1 tsp ground chipotle (to taste)

A few scrapes of lime zest

Dash of Worchestire

Salt

Pepper

Orange Juice to Thin

 

Mix yogurt with first six ingredients. Thin with orange juice to slightly-runny consistency. Check for taste, then set aside while preparting the tacos. Taste and adjust seasonings again before serving.
Corn and Black Bean Salsa
Corn- fresh from cob preferred, or 1 can well-drained

Black Beans, rinsed and well-drained

½ Jalapeno pepper (with or without seeds, depending on desired heat)

¼ Red Onion, diced

(When making this stand-alone, I add one small bell pepper diced, but today the kabobs have grilled bells pepper in them)

Squeeze of lime

1 handful cilantro, chopped (1-2 tbs, or to taste)

Salt

Pepper

Pinch of sugar

 

Place corn, jalapenos (and bell pepper, if using) and onions in hot nonstick skillet sprayed with olive oil (I like Spectrum Naturals brand, or use my knock-off Mr. Misto.) Season with salt and pepper, add a pinch of sugar and toss to coat. Leave it be until the corn starts to pop around and you smell a nice corn aroma coming from the pan. Flip once and repeat. At this point, you should have nicely caramelized corn and onions and some bits stuck to the pan. Add the juice of a small half of lime and use a rubber spatula to help loosen some of the bits on the pan. Add the well-rinsed black beans and toss. Add a handful of cilantro and set aside.
Finally, I spruce up the meat and veggies on the kabobs by chopping an sauteing with a splash of lime and a dusting of cumin.
To construct the tacos, place a spoonful of the Corn and Black Bean Salsa on a jicama sheet, topped with some of the meat mixture, 1/4 oz of Ricotta Salata cheese, and a thin slice of avocado, roll and place seam-side down on storebought mango salsa. Drizzle with the chipotle cream, and there you have it!
According to my calculations, a whole plate of these puppies comes in at under 350 calories, very low fat (well, if I'd used a flank steak other than the Kobe I had left over), and more protein than carbs (with the option of swaying that even more if you leave out the black beans.) And, did I mention it was really good?
This one needs to go for a spin (or soak, as the case may be) in the FitLife laboratory, a recipe for whipping up a batch of homemade Bacon Infused Vodka… The details from The Brownie Points Blog:
- Fry up three strips of bacon.

- Add cooked bacon to a clean pint sized mason jar. Trim the ends of the bacon if they are too tall to fit in the jar. Or you could go hog wild and just pile in a bunch of fried up bacon scraps. Optional: add crushed black peppercorns.
- Fill the jar up with vodka. Cap and place in a dark cupboard for at least three weeks.

That's right- I didn't refrigerate it.

- At the end of the three week resting period, place the bacon vodka in the freezer to solidify the fats. Strain out the fats through a coffee filter to yield a clear filtered pale yellow bacon vodka.

- Decant into decorative bottles and enjoy.
I'm sure the nutritional benefits of consuming your ration of smoky, porky, fatty goodness in (presumably) fat-free, boozified liquid form FAR out weigh the risks of getting plum snookered on one too many Bloody Oikers or Pigsty Martinis… Totally sure!
As someone who has always considered herself "fit," it's easy to sit around patting myself on the back, turning a blind eye to the few extra pounds that have crept on. After all, I exercise often, eat healthy foods and a variety of fresh and organic vegetables, very very rarely (never, except in dire straights) eat fast food, etc. I find comfort in thinking I must be in the upper percentile of healthy living, and thus must be A-OK.
That comfort may be misplaced, though, as studies are showing more and more that weight is important. As I mentioned before, I am apple-shaped which, espcially for woman, can mean increase heath risk.
And now this study from the Journal of Internal Medicine reinforces the idea that it IS important to consider weight in reducing risk factors overall:
"… although physical activity definitely helps improve cardiovascular health, such exercise does not "eliminate the negative effects of being overweight."
Just a little food for thought on this Monday morning.
Edit: Find a more in-depth, deep-dive on the study findings at the Junk Food Science blog.  While I find the explanation of the study methodology interesting, I have to say the writing smacks of, "This is isn't true, it's perfectly fine to be overweight- don't let science tell you otherwise!" I'm not sure if the author of this blog is telling people being at a healthy weight isn't important, or just seems like she's handing out "OK to be overweight, don't worry about it" cards on a silver platter.
1336 Polk @ Pine
415-67-FUNKY
My favorite Yelp review on Funky Door Yoga went something like this, "Funky is the smell of the dude's sweaty ass next to you and Door is where you'll want to stand so you don't pass out from the heat."
Funky Door has two locations in San Francisco and one in Berkeley. I took classes at the one on Polk Street occasionally, but I was a regular for about a year at the one on 2nd and Howard, but it has closed. There is only one thing more awesome than sweating your ass off in 117 degree heat, and that is doing it in a swimsuit with your leg in the air five feet from a wall of windows overlooking the sidewal where all your coworkers are walking to BART.
I'll start by saying that I am kind of torn on Bikram Yoga as a whole. For starters, I have a big issue with the cultishness. First, this guy Bikram Choudhury decides he is going to try to trademark yoga poses and basically say you need to pay him a license to do poses that have existed for thousands of years in a room above a certain temperature? What a crock of shit. Then, when you get into it, you realize that Bikram people are ONLY Bikram people, whereas most practitioners of other styles of yoga switch between them. And, to keep your instructor status, you have to do 2 classes a day (3 hours total). And, there is a secret-ish invite-only advanced class that only special people can go to. It's kind of Scientology-esque in some ways- like you need to get to a certain point before they let you in on their secrets.
The classes are pretty mind-numbing. 26 poses, done in the same order, to the exact same instructor script, every single class with no music. "Your body is like a Japanese ham sandwich!"
Specific to Funky Door Yoga (which, to be fair, is the only place I've ever done Bikram), the instructors can be very combative with students, essentially cajoling them into doing poses even after the student has explained that they have a health problem keeping them from doing it. The only time I have heard a teacher accept that a student couldn't do something was when I was practicing with a fractured arm. As a student, it was uncomfortable to be in the room while some teachers were calling out students and berating them.
The information you find on the internet will tell you that Bikram Yoga is done in a 105 degree room. The instructors at Funky Door, apparently, believe that more is more. An instructor once brought a thermometer into the room and we got up to 117 degrees. Funky Door is somewhat notorious for packing students into the rooms, mat-over-mat, so prepare to get dripped on and have your space invaded.
Funky Door has an introductory offer that is appealing, but keep in mind that classes after that are about $16 each.
Despite all the negatives, though, I really enjoyed doing Bikram at Funky Door when I was injured and couldn't do "real yoga." (Bikram has no poses that involve bearing weight on the arms, like Down Dog or Crow, so it was a godsend when I had a broken arm.) It also gave me quite a glow for several hours afterwards and a general feeling of calm and health. But, MAN, getting though those classes was an exercise in mind-over-heat/stink/sweat/douchebags!
THE FINAL WORD: Funky Door is great for a healthy glow and low-impact workout, but prepare to be brainwashed, basted, broiled, berated and, possibly, broke.
THE VERDICT: